Installation
Se also: Questions & Answers | Documentation | System needs
Download and start the installation program
In order for the program to work, Java must be installed on the computer. The program is tested with version 1.4 of Java which can be downloaded for free from Java.com.
On the Download page you can see if you have the right version installed.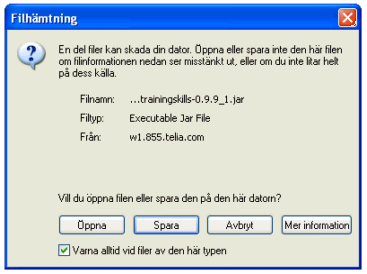 Download Training Skills and save the file trainingskills-x.x.x_x.jar on your hard drive (for example the Desktop or My Documents).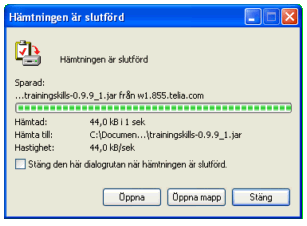 If you have Windows and Java correct installed you just have to choose
Open
to start the installation
If you don't have Windows:
The installation starts by running
java -jar trainingskills-x.x.x_x.jar
Sometimes it's necessary to write the full path to java:
/usr/local/jre1.4.1/bin/java -jar trainingskills-x.x.x_x.jar
Replace the path in the example to the path in your system.
Installation started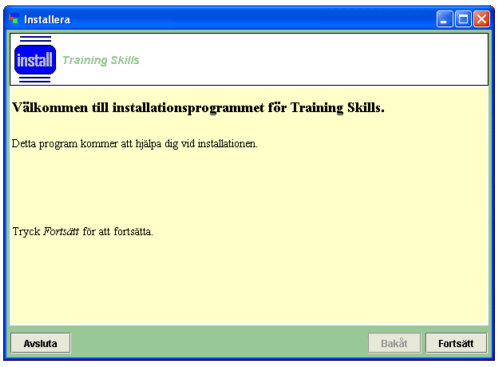 Click on Fortsätt

Then press Fortsätt again if you don't want to change where the program should be installed.

Now you have to write the product code. The code has been mailed to you at the adress you wrote when you downloaded the program. Write the code and press Fortsätt.

Then the installation program starts extracting all files and check the product code. It can take some time so be pacient.

When the installation is done it displays the text "Installationen är nu klar".

Copyright © 2003-2008 Markus Kilås All rights reserved.
Windows is a trademark of Microsoft Corporation in the U.S. and/or other countries.
Mac OS X is a trademark of Apple Computer, Inc. Linux is a registered trademark of Linus Torvalds.
Solaris, Java and all Java-based marks are trademarks or registered trademarks of Sun Microsystems, Inc. in the U.S. and other countries.